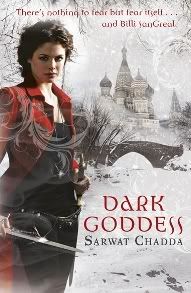 I've won some contests over the past month and a half so I've decided to thank everyone who hosted those giveaways.
The Dark Goddess by Sarwat Chadda
BILLI SANGREAL is a Knight Templar and has thrown herself utterly into their brutal regime, shutting herself off from everyone and everything. But when Billi finds herself at the heart of a savage werewolf attack, she knows their target – a young girl – must be rescued at all costs. For this is no ordinary girl. Vasalisa is an avatar with an uncontrollable force within – and it's not just the werewolves who want her.The Dark Goddess wants to sacrifice Vasalisa and use her powers to unleash unimaginable catastrophes and devastation. Can Billi protect Vasalisa from the ancient goddess – and at the same time stop her from destroying the world?

Description taken from Amazon.
Thank you, Sarwat for holding your contest!
Beautiful Creatures and Beautiful Darkness Buttons

Thank you, Kami Garcia and Margaret Stohl for holding your Countdown to Beautiful Darkness Contest!
Beautiful Darkness ARC by Kami Garcia and Margaret Stohl, Siren by Tricia Rayburn, Wolves, Boys and Other Things That Might Kill Me by Kristin Chandler
Ethan Wate used to think of Gatlin, the small Southern town he had always called home, as a place where nothing ever changed. Then he met mysterious newcomer Lena Duchannes, who revealed a secret world that had been hidden in plain sight all along. A Gatlin that harbored ancient secrets beneath its moss-covered oaks and cracked sidewalks. A Gatlin where a curse has marked Lena's family of powerful Supernaturals for generations. A Gatlin where impossible, magical, life-altering events happen.Sometimes life-ending.Together they can face anything Gatlin throws at them, but after suffering a tragic loss, Lena starts to pull away, keeping secrets that test their relationship. And now that Ethan's eyes have been opened to the darker side of Gatlin, there's no going back. Haunted by strange visions only he can see, Ethan is pulled deeper into his town's tangled history and finds himself caught up in the dangerous network of underground passageways endlessly crisscrossing the South, where nothing is as it seems.
Description taken from Amazon.

Seventeen-year-old Vanessa Sands is afraid of everything--the dark, heights, the ocean--but her fearless older sister, Justine, has always been there to coach her through every challenge. That is until Justine goes cliff diving one night near the family's vacation house in Winter Harbor, Maine, and her lifeless body washes up on shore the next day. Vanessa's parents want to work through the tragedy by returning to their everyday lives back in Boston, but Vanessa can't help feeling that her sister's death was more than an accident. After discovering that Justine never applied to colleges, and that she was secretly in a relationship with longtime family friend Caleb Carmichael, Vanessa returns to Winter Harbor to seek some answers.But when Vanessa learns that Caleb has been missing since Justine's death, she and Caleb's older brother, Simon, join forces to try to find him, and in the process, their childhood friendship blossoms into something more. Soon it's not just Vanessa who is afraid. All of Winter Harbor is abuzz with anxiety when another body washes ashore, and panic sets in when the small town becomes home to a string of fatal, water-related accidents . . . in which all the victims are found grinning from ear to ear. As Vanessa and Simon probe further into the connections between Justine's death and the sudden rash of creepy drownings, Vanessa uncovers a secret that threatens her new romance, and that will change her life forever.
Description taken from Amazon.
When KJ Carson is assigned to write a column for her school newspaper about the wolves in nearby Yellowstone National Park, she's more interested in impressing Virgil Whitman, the new kid in school and the photographer assigned as her partner, than in investigative journalism. But before long, KJ has a face-to-face encounter with a wolf that changes her and the way she thinks about wolves. With her new found passion for protecting these controversial animals, KJ inadvertently ignites the fuse of the anti-wolf sentiment in the community. First Virgil is injured during a town parade, and then her father's store is set on fire in retribution. To stop the escalating violence, KJ follows Virgil to the cattle ranch of the most outspoken anti-wolf activists in town, against her father's will. What she discovers there threatens everything and everyone she cares about. In KJ's fierce and funny attempt to make peace between the wolves and the people that despise them, she must first face her own long-held fears. It's terrifying, but then, finding yourself always is.
Thank you, Bree Despain author of The Dark Divine and the upcoming novel The Lost Saint for having such a cool giveaway.
Promise
by Kristie Cook
When Alexis Ames is attacked by creatures that can't be real, she decides it's time she learns who she really is, with or without the help of her mother, who guards their family's secrets closely. After meeting the inhumanly attractive, multi-talented Tristan Knight, however, Alexis retreats behind her façade of normalcy...until she discovers he's not exactly normal either. Then their secrets begin to unravel. Their union brings hope and promise to her family's secret society, the Angels' army, and to the future of mankind. But it also incites a dangerous pursuit by the enemy - Satan's minions and Tristan's creators. After all, Alexis and Tristan are a match made in Heaven and in Hell.
Description from Amazon.

Again much thanks to everyone who supplied me with these prizes and here's hoping I'll win some more in the future!